The Heian Shrine is one of those major stops in Kyoto. It's one of the main shinto shrines in the country, and its torii is one of the largest in all of Japan.
It's a symbol of revival for Kyoto after the capital was moved away to Tokyo, and they've kept the city thriving by becoming modernized while at the same time preserving a lot of the old traditions and cultures.
I think the one thing that really distinguishes it from a lot of the other temples is the really big wide open courtyard it has. Other shrines have massive courtyards, too, but this one just leaves an impression. In fact, I had stopped by with my traveling companions because they wanted to visited it and it was on the bus ride to key destinations in Kyoto. I had thought it would be my first time to the temple, and even when I stepped off the bus by the giant torii, no bells rang. It was in fact the moment I stepped in the expansive courtyard that I suddenly took a sharp breath of remembrance, turned to my friends, and was like "I've been here before." And then it all came back to me, 1998, traveling with my family in Kyoto, my mom taking us from one temple to the next, and this was one of them.
This temple pretty much has all the standard aspects of a Japanese shrine. You could say it's quite the cookie cutter shrine.
Personally, I like what it stands for as a symbol of revival for this city that has really charmed me, but I actually don't like the design of the place, particularly the colors of bright red and white. I think it might look better in autumn or spring when there are other colors to play off of the red, but in the winter (and both times I've been in Kyoto have been during winter), there's no leaves on the trees and everything's kind of stark, so the red sort of feels gaudy against the winter sky. I imagine it probably looked cooler after the snowstorm, but more on that winter wonderland experience later.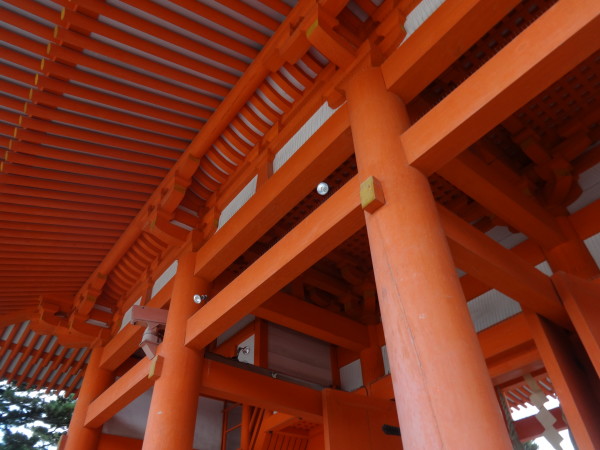 I definitely wouldn't mind spending a spring, summer, and autumn in Kyoto visiting all the key sights again, and I'm guessing from this painting, it's probably more stunning during the other seasons.
Next up, my temple of non-destiny, Kyomizudera.
How does this post make you feel?