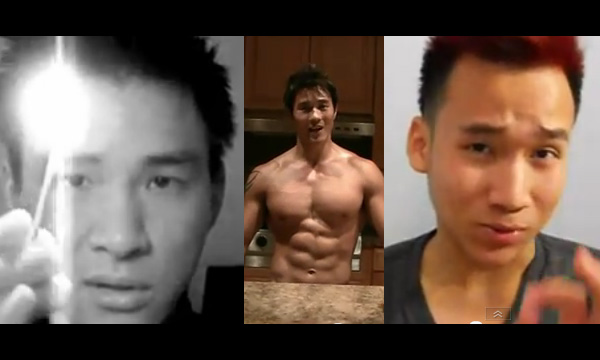 A variation of this piece was originally written for AsiansOnYouTube and has been reposted here with permission.
By AsiansOnYouTube
It was very difficult working on this list of Asian American Gay and Lesbian YouTube channels while at work, because so many of the YouTube search results were quasi-porn. Trying to find quality Lesbian channels was even harder; I had to shift through a ton of Japanese girl-on-girl action videos. Watch my findings, after the jump!
#5 jaywong1001
http://youtu.be/FZUgRVOfw_M
He does not have many views or subscribers, but his vlogs give really good insights and he is well spoken.
http://youtu.be/CpouBPlv8d0
http://youtu.be/3ViQxM2iE60
#4 glowpinkstah
Gloria Shuri Nava is Half Mexican and Half Filipino and full crazy! She does funny skits, sarcastic make-up tutorials and funny covers.
http://youtu.be/sfpdlffAww0
#3 Hanksterchen
http://youtu.be/uXUQGG0Ta5c
Hank Chen is an up and coming actor and YouTuber. He vlogs frequently and speaks out about LGBT issues. He's a pretty funny guy and definitely worth subscribing to!
http://youtu.be/M5LGMMj-kVA
http://youtu.be/KeoO91KZCxk
#2 luanlegacy
http://youtu.be/qMFpZRDYha4

This guy is like the gay NigaHiga, in terms of having a huge number of subscribers and TimothyDeLaGhetto when it comes to his dirty sense of humor. He is only 18, but he is highly opinionated, not afraid to swear and speaks a mile-a-minute.
http://youtu.be/Ql9Lj8LtKds
http://youtu.be/3s4KXW3j4Zg
http://youtu.be/2JfYL5hsdqE
#1 wwwpeterfevercom
http://youtu.be/p6o16lLTrjw
Peter Le is a gay nude model who makes really funny and well produced YouTube videos. He is also ripped as heck and a member of the "why isn't it out yet" reality show K-Town. He is very charismatic and good looking, I can see why this guy was chosen for the show. He's Vietnamese and lives in the Bay Area.
http://youtu.be/B5fCfz8SUb4
http://youtu.be/mOfbWbgtSzQ
Honorable Mentions
ofsamubry
aznfliplgbt
http://youtu.be/1s0SqyHRiWc
ElectrickRose
TheYaygasm
http://youtu.be/wSTwlf_imT8
Are there any Asian American YouTube vloggers with GLBT content who you recommend?
ABOUT ASIANSONYOUTUBE: I LOVE watching Asians on YouTube.
How does this post make you feel?