Elemental by Taimane
independent, 2018
What's your label?
Taimane Gardner's new album dropped last week.  Elemental is a mostly instrumental blending of many styles, as one would expect from this ukulele virtuoso.  Her FB bio says,
Taimane translates to "diamond" from Samoan and perfectly reflects the different facets of her nature. Whether delicately finger-picking through Bach or radically ripping through Led Zeppelin, Taimane has the ability to morph genres – from classical to rock to flamenco – and stretch her instrument far beyond the familiar melodies of Hawaii, where she grew up.
She learned to play at age 5, first attending Roy Sakuma's ukulele school, then taking lessons from Jake Shimabukuro.  Busking on the streets in Waikiki led to her discovery by Don Ho, who made her a regular in his Waikiki show when she was still in high school.  A nice feature in Ukulele Magazine about her then-recent We Are Made of Stars album, explains how her sound and performance style evolved next:
A close friend took her to Ong King Art Center, an underground art gallery in Honolulu's Chinatown. "It was the complete opposite of Waikiki," she says. "Improvising and creating on the spot was the hot thing. I was introduced to artists and musicians who looked at music and art differently. It was the moonlight compared to day."
Prounounce it "ty-MAH-neh."  And "oo-koo-LEH-leh," not "yoo-kuh-LAY-lee."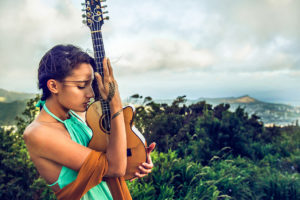 Only open eyes and ears and minds can hear
Water (5:13)
Fire (4:07)
Air (4:40)
Mother (Earth) (4:27)
Hades (Pluto) (3:53)
Ether (3:55)
Atlantis (4:09)
Taimane Gardner: ukulele, vocals
Jazzy Jazz: guitar
Jonathan Heraux: cajon
Come on and listen
While Taimane delivers these seven element-themed songs with her usual cross-genre style, the dominating mood is atmospheric.  She's at her best when she's playing alone, without accompaniment, but there aren't any bad or boring moments on the album.  Listen to "Air" and you'll get a sense of the ukulele's range of sounds in the hands of a competent musician.  The instrument has very little sustain without electronic help, but you hear how a mostly strummed style can provide a nice droning staccato and even some sweet harmonics for kind of an illusory sustenance.
I love how she occasionally, without overdoing it, will slide up or down the neck in a manner unusual for ukulele-playing.  There's an approach here that some traditionalists criticize, attacking the instrument like a guitar to be shredded, rather than gently coaxing the music from the strings and fretboard, but I say there's a time and place for good, musical shredding, and musicians like Jake Shimabukuro, Troy Fernandez, and Taimane Gardner carve out that time and place.
I never get tired of her playing.  Put this in your earbuds and lie down somewhere cool or warm, somewhere you can feel the ground you're on and whatever breeze you can find.  People always associate ukulele-playing with the beach, but here's an ukulele album that should work in any outdoorsy setting.  I'm serious!
She is here
Best song: "Ether," a new-agey piece with some pretty accompaniment.
Second-best song: "Air."
Meh: I really like the playing and vocals on "Mother (Earth)," but the lyrics are super uneven, sometimes distracting.
Song to make you wanna book that vacation to Hawaii (do it!) (and bring all your money!): "Fire."
Song to make you wanna book a midnight Nightmarchers hike while there: "Atlantis."
Best moment: I really like the strumming that picks up right after the short pause at about 2:44 in "Air" and goes to the end of the track.  Makes me want to break out my senior yearbook for some reason.
Rating: 7/10
Where are you?
site, twtter, ig, fb, amzn, itns, ytbe, sptfy, cdbby
see Taimane play her kinda famous surf medley at halftime at a Clippers game at the Staples Center.  Ignore the announcer's bad pronunciation of her name.  It's not his fault.
How does this post make you feel?