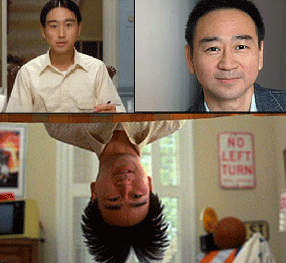 I was just driving home from work when I heard this National Public Radio (NPR) piece on (listen/read at): "Long Duk Dong: Last of the Hollywood Stereotypes?" and knew I had to blog about this right away. In "Sixteen Candles," Japanese-American Gedde Watanabe plays Long Duk Dong.
"Long Duk Dong is the creation of writer-director John Hughes, whose films — The Breakfast Club, Pretty in Pink, Ferris Bueller's Day Off — enshrined a Hollywood-heightened image of a suburban high school near you. Geeks, jocks, cheerleaders, kids desperate to find an in with the popular crowd — they were the standard character set. In real American schools, Long Duk Dong gave the mean kids new material. "Every single Asian dude who went to high school or junior high during the era of John Hughes movies was called 'Donger,'" says Eric Nakamura. Nakamura and Martin Wong co-founded the magazine Giant Robot, which covers Asian and Asian-American pop culture. "If you're being called Long Duk Dong," Wong explains, "you're comic relief amongst a sea of people unlike you." Worse, says Nakamura: "You're being portrayed as a guy who just came off a boat and who's out of control. It's like every bad stereotype possible, loaded into one character." Nakamura and Wong say that before "The Donger" came along, they got called "Bruce Lee" at school. That wasn't so bad: At least Lee, the martial-arts star, could kick ass. Sixteen Candles stole even that limited pleasure — and Asian-American guys focused their frustration on the actor who played Long Duk Dong. After all, he was one of them: born in the U.S.A."
I've blogged about "yellow face" performances perpetuating bad stereotypes of Asians/Asian-Americans before in movies before, but this was the first ever piece on the radio I'd ever heard regarding Asian-American male actors and bad stereotypes. I also blogged recently about how that a Hollywood pioneer actor was an Asian, before Hollywood took a big step backwards in stereotyping Asians and Asian-Americans.
To be honest, I've never actually watched the 1984 John Hughe's film, "Sixteen Candles" – maybe caught bits and pieces of it on TV (I have seen and did like The Breakfast Club). I was in the 8th grade when that movie came out, and although I lived in Western Massachusetts where very few Asian-Americans lived, I was never called Long Duk Dong or 'Donger.' I was however called Bruce Lee or asked if I knew karate while growing.
(Here are some other clips with Long Duk Dong in Sixteen Candles: "What's happening hotstuff?"and "Very clever dinner.")

When I was a freshman in high school, I had a locker next to this "jerk" (to put it mildly), who often did call me "Mr Miyagi" or "Daniel-san" or would say, "Wax on, wax off" when we were at our lockers (though calling me Daniel-san never made sense to me since Daniel's character was white). If you didn't catch the reference, this would be from the 1984 movie, "The Karate Kid." So I could totally identify with the NPR segment about being tormented in high school through a bad Asian-American stereotype (ok, tormented may be too strong of a word).
The segment goes on to interview Gedde Watanabe, and he discusses his naivite at the time when taking the role (his first "big" Hollywood break), and how to this day, people recognize him as the actor who played Long Duk Dong and mimic his character in front of him. At the time of the film, Watanabe was often also accosted by Asian-Americans in public when recognized.
The NPR concludes the segment that there are now more roles for Asian-American men in Hollywood, but no breakout star. The closest the Asian-American community has as a "star" is John Cho – who is best know for playing Harold in the stoner comedy Harold & Kumar Go to White Castle and in an upcoming sequel Harold & Kumar Escape from Guantanamo Bay (in theaters April 25th).
I was really glad NPR did a dedicated segment on Long Duk Dong as part of their on-going series "In Character" ("Great characters: What makes them? What does it take to create them? Why do they matter? NPR's In Character series joins with readers to explore these questions."). The segment made me think, laugh, as well as made me angry (as in Angry Asian Man – I wonder if Phil Yu will blog about this the NPR segment now…)
How does this post make you feel?