Meet Eddy Tsai. He grew up the only Asian in his neighborhood and was bullied all his life. He has come to hate being Asian. He's even changed his last name to "Richards" and lies that he was adopted by Caucasian parents. His hate for himself is only eclipsed by the hate he feels for other Asians.
Eddy's lifelong dream is to become a serial killer, like his hero Ted Bundy. He has spent years working toward this dream by training his body through strenuous workouts in his apartment and training his mind by reading serial killer related books.
Outwardly, Eddy is your "typical" Asian American office worker. His co-workers, for the most part, see him as the quiet, hardworking guy, who is destined for middle management. But Eddy believes that he is smarter, stronger, and better than everyone around him. To prove it, he decides once and for all that he will follow through with his dream; he will become a serial killer. His victims? Asians.
That's the premise of my newest feature film, Chink, the first Asian American serial killer movie. The film will be the directorial debut of Stanley Yung, produced by Quentin Lee, and stars Jason Tobin (from Better Luck Tomorrow and The Fast and the Furious: Tokyo Drift) and Eugenia Y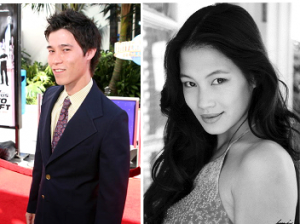 uan (from Memoirs of a Geisha and Eye 2). I'm currently trying to raise money for this film through a new online community of America's finest artists called USA Projects created by United States Artists to expand its mission of investing in America's finest artists.
But let me take a step back and tell you how I got to this point.
Back in 2006, I met director Quentin Lee at a Coalition of Asian Pacifics in Entertainment mixer. As luck would have it, I had just seen all of Quentin's films the week prior to the event. Needless to say, I was a big fan of him and his work.
That's why when he asked if I wanted to collaborate with him on a new project, I jumped at the opportunity. We soon met with Quentin's producing partner, Stanley Yung, and together we started to try to come up with new movie ideas. Early on, we knew we wanted to make a movie with an Asian American male protagonist and another movie centered around an Asian American female protagonist.
The two ideas we came up with was Chink and The People I've Slept With. Because The People I've Slept With is more mainstream of the two, we quickly found funding and went full steam with that film. We were lucky enough to travel the world with the movie and showed it to thousands of people.
Now that The People I've Slept With has runs its course, we have turned our attention back to the other film that we always intended to make, Chink. The problem with Chink is that it definitely pushes the envelope. Even the title, which is intentionally offensive and hopefully provocative, makes people uncomfortable.
And that's okay because Chink isn't your run of the mill Asian American movie. It's violent but it's also funny. It's gory but it's also sexy. It's about identity but it doesn't take itself too seriously.
We tried to find funding through traditional production companies but it's just not the kind of film that the Hollywood establishment is looking to make. And rather than waiting for them to come around, we decided to go directly to the community.
We are trying to raise ten thousand dollars. Which only sounds like a lot. In reality, making a feature film for that amount of money is going to be difficult. It means a lot of people working for free and a lot of in-kind donations. Anything else we need we'll just have to charge it on our credit cards.
Making an Asian American movie is not about making money. It's about the passion of wanting to make movies about APIs and by APIs. Making Asian American movies is crazy because it can be frustrating and not very profitable. But ultimately, we continue to make these movies because we are passionate about Asian American movies and we believe we need to keep telling our stories and control our own narrative or someone else will.
For more information about Chink or to find out how you support the project, visit our USA Projects page.
How does this post make you feel?